A few years ago I attended Holiday Mart in Indianapolis. There I found a booth that sold framed picture letters that spell out a word of your choice. You pick the letter photos from their selection and they frame it for you in a simple black frame with a black mat. I had seen pre-framed words like 'FAMILY', 'CREATE' and 'LOVE' at Target or Bed, Bath & Beyond and special order on-line. What I found so appealing about the photos at this particular booth was that they had a box of photo letters taken in and around Indianapolis. I decided to splurge and get a frame with our last name for my in-laws (aka The People Who Have Everything). Thrilled that I could use the Colts horseshoe for the 'U' so my FIL would be represented! I had the pictures installed in a 5-slot matted frame for the low price of

$150

!!!

Say What??!

*Uuuuum, No, I did not forget the decimal point!*

Boy! did I want one of those for myself but I would never hear the end of it from Handy Hubby : ) if I bought 2! I loved the idea sooooo much that I thought to myself - as I know many of you do too - "I bet I could make my own". Now, I'm not a professional photog but I am a girl with a camera and I do know my ABC's. How hard could it be? What I discovered is how FUN it could be!! Now I see 'letters' everywhere *sometimes even sitting in church - sorry God!*. I made several frames for the people we drew names for that Christmas. What fun we had thinking about each family, their interests, places that are relevant and significant for them.



I've taken pictures at church and have come up with 'FAITH' and 'LOVE' frames. The 'FAITH' frame I donated to the church auction titled "I Spy 'FAITH' at ***". (do you think God forgave me for my wandering mind?)





The 'LOVE' frame I have given as baby/baptism gifts because the 'O' came from the baptismal font.











My daughter & I each made one for our French-speaking friends. We used the same word 'AMIE' *'female friend' in French* but her letters were picked for a 16 yr old girl.







And mine were picked for a high school French teacher who is my shopping/ lunch buddy.

I have the pictures printed up in sepia or black & white depending on the color of the mat. Sepia prints against a white mat can create a dirty look. What I learned is you can see the 'letters' better when you remove the color. Pictures with high contrast work best. And I've learned that some people are letter purists and think that taking pictures of actual letters is cheating...



Here is a frame I put together that represents my little family. Each letter is the first letter in each of our names. The first 'S' is for Handy Hubby : ) who always says "Our door is always open, just knock first..." 'E' is for me. Home is where my heart is *see the bird's nest?*. 'C' is for my son who is away at college most of the time, so his letter is to remind him that any distance can be bridged with a phone call *or text, whatever*. 'A' is for my daughter who spends a lot of time at church. For me and my house, we will serve the Lord. & 'S' is for my younger daughter. The picture is of the sidewalk in front of her school. Her letter is a reminder that I'm glad we are traveling on life's journey together. So, although our pictures are simple, they are meaningful to me!

Because each frame was highly personalized, I decided the original $150 price tag was justified because it generated lots of special gifts! And with Father's Day right around the corner YOU have just enough time to get out there with your camera and come up with something special for the Dad's in your life : ) I would LOVE for you to share your creations with me!!

ps sorry about the pictures - I'm crafty, not computer savvy...


linking up with: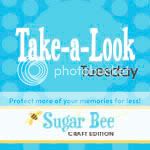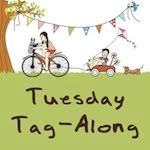 Blessings!!

MLE