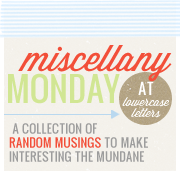 Mondays and Randomness seem to go hand in hand...
*1* I thought I could grill hamburgers last night before the storm. I got the burgers done in time but forgot to cover the grill and the cover almost blew away - again!! It was very blustery and wet last night.
*2* Daughter S has an eye appointment today. She's had red eyes and can't get her contacts in. Hope it's nothing serious!
*3* I looked around this morning after everyone was gone and realized I haven't been alone in over 2 weeks. I also realized I've already achieved 'summer house' - where things are in a constant cluttered state because everyone's home and follows behind you undoing what you've JUST done! After a while you figure, why bother?!
*4* I didn't know I was going to do this post today until just now - how much more random can I be? : )
*5* I added this because there are 5 people in my family
Join me at
and lets be random together!