After 3 years in our house and much hard work on Handy Hubby : )'s part, the yard and landscaping are looking 200% better than when we started. The yard was weed-ridden with grubs and sick looking plants. Now there are no bare patches (

although I think we're still battling grubs

) and most everything blooms.
My long term dream is to create a gorgeous outdoor oasis complete with water features, multi-tiered bricked patio with a fireplace and a pergola to wile away the summer hours...

*dreams are free and effortless*

. Since that day is not today I'll relish what we DO have which is a neatly manicured yard, a peaceful view and a few of my favorite people to enjoy it with: ) I'm really very lucky!

As we continue around the house you'll notice the planter Handy Hubby : ) installed for me around our light post. We simply took a regular 14" hanging planter with a circular base slightly wider than the post and removed the chains. HH cut out the cross bars on the very bottom, removed the top of the light to slide the planter onto the post and secured it with the decorative bar from the light.
On the side of the garage we have a row of salvia that experienced a tremendous growth spurt this year. They are almost larger and taller than the bushes behind them!
The Stella Doro lilies are doing really well this year and the row of Canna lilies along the house will be a nice pop of red when they bloom.

The crowning jewel of my garden is......

Wait for it......

Wait for it......
The over-sized, rusty, disgusting Attack Frog!!

*eeew*

The previous owners left it behind. Hmmmm, imagine! My family laughed 'til they cried when they saw it because I have a thing about

*hate!*

frogs. It's pay-back for something, I'm sure!! Please forward ANY and ALL of your crafty makeover ideas to me on this one : ) Perhaps I'll make it my first Bloggy Giveaway!!
The orange lilies were a housewarming gift. They are really thriving in that spot. I marvel that they not only come back every year but actually multiply! They are a little stumpy though, I don't know why?
A feature that has turned out to be one of my favorite things about our house is the pond and the wildlife that come to visit daily. My daughter named the heron 'Gilbert'. And the bright gold finches make me smile. I saw Mama duck waddle by with her ducklings yesterday. I'll admit, I totally freaked out the first time I spotted the hairy alligator

*muskrat*

swimming in the pond! I did NOT want him anywhere near the house. But he mostly keeps to himself. Probably because this lady was screaming hysterically one day so he thought, "Note to self: Stay away from shore. There is some kind of CRAZY going on over there!!"

Now that I think about it, our yard, which was once a headache with it's fluffy dandelions, clover patches and sickly foliage has really turned around. I guess what they say is true, 'Three, is the Magic Number" because it takes 3 years to establish/rescue a yard.

Anyhoo, we don't have grand travel plans for the summer. We've got lots of activities going on here. At the end of the day though, I love sitting outside with a bowl of watermelon and chatting with the Fam.



Come join me sometime, won't you? Grab an iced coffee or tea

*or other 'Mommy Juice' of choice*

and let's visualize serenity and tranquility together for the next few minutes... don't mind the crazy woman running around the yard shaking that cow bell like the dickens, she's just shooing the geese away : )

ps this post is dedicated to my friend, Helensdecor, who nudges me out of my comfort zone!! ; )
Places I party:
Monday
Tuesday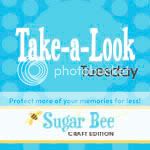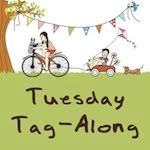 Wednesday
Thursday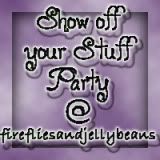 Friday
Saturday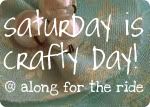 Blessings!
MLE