I'm not a super frilly gal but something about ruffles is making me say, "Serve me up a big bowl of that Ruffled Goodness and throw in a side of Cute!"

My to-do-list is brimming with ideas of the ruffled variety so I figured I'd better start on a few projects before this fancy passes...

This Vera Bradley purse was my inspiration. When I saw a picture of it
online
last March *
Cha Cha in
Sittin' in a Tree
* I knew I had to have it! I don't usually splurge like that for myself but I decided it would be worth squeezing into last summer's clothes one more year if I could carry that little cutie everyday : )

Well, as cute as it is, it doesn't work all of the time. And I've been toying with the idea of a clutch or a wristlet as a quick, summer grab & go *with ruffles, of course*. So, let's see what happens...

On my last trip to JoAnn's I found more discontinued fabric samples that were being clearanced out for $1 - more on that here. So, today I'm serving up another project using these squares. L.O.V.E. these! I got sooo excited I couldn't just pick one - or two... The top 5 samples are all indoor/outdoor fabrics so they're durable, fade-resistant & water resistant.



I also decided to try sewing a zipper because I didn't want anything falling out of a wristlet if it was dangling from my arm.

*I was soooo nervous cause I was a zipper virgin*

I picked the fabric sample I cared about least just in case I screwed it up - I used the black & white stripe because something black & white is really what I needed.

I watched several tutorials on zippers, wrung my hands together, took a deep breath, squeezed my eyes shut & stepped on the gas...


At the end of the day, what I ended up with was this!
The zipper still needs work but it wasn't awful for my first try!! Since the fabric had stripes I wasn't feeling the ruffles, so I used this pleated ribbon and added a yo yo flower instead. That's ok! I'm flexible.

I cut out an 8" circle from a black window sheer that I had from another project. I was supposed to sew a 1/4" running stitch around the perimeter of the circle but I don't have mad sewing skills so my stitch wobbled from 1/4" to 1"

*go ahead - you can laugh*

. That wonky sewing turned out to be a real plus for me! : ) When I gently pulled the running stitch and gathered the fabric to the middle I really liked how the center was frilly. And when I frayed the middle I thought it looked really cool!

*who's laughing now? hehe*





Since I had nearly a whole box of Fragments left over from the key chains in my college survival kits (check it out

here), I used a tiny one to replace the zipper pull just for a little pizzazz and an itty bitty punch of color.



I've been slinging this little baby around with me the last couple days to try it out. It works fairly well... except I don't know how many days I can come up with all black & white outfits. What? your not supposed to dress around your accessories?! I dunno, I thought it was kinda chic myself : )

I'm super excited that I completed this project for under $5 with just an idea rolling around in my pea brain

*and once again, no pattern*

. Admittedly, some of the mental gymnastics almost made my eyes pop right outta my head though! It wasn't exactly what I had originally envisioned but I'm not unhappy with where I ended up. Now I've got to grab a few more zippers so I can try a slightly different design on the really fabulous fabrics!!! : )

Warming up my pea brain with a few mental calisthenics

*coffee, sudoku & crossword puzzles*

... Wish me luck!!

Blessings!
MLE



monday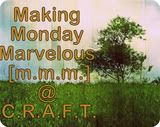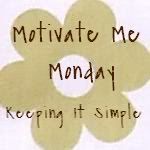 tuesday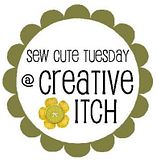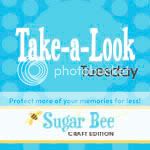 wednesday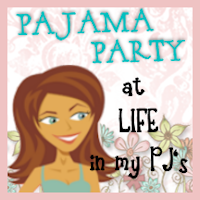 thursday



friday