It's May, so you know what that means in Indiana...

Indy 500 Madness

!

Handy Hubby : ) grew up in Indy so when we moved here 3 years ago, for him it was like the song goes, "Back Home Again in Indiana". I will say that being a

Colts

fan in

Bears

Country and

Packers

Territory was somewhat of a challenge for him over the years during our stints in other states!! That's ok, whatever doesn't kill you makes you stronger, right? : )

Well, I

am

flying my checkered flag this year




and we

are

hosting a party but the fact that it's

on

race day is a bit of a coinky-dink. Our daughter is graduating from 8th grade and will not be attending the same high school as most of her current classmates. So, this end of the school year is bittersweet for her. She's having some friends over to celebrate graduation/summer/friendship. Having the checkered flag theme is somehow appropriate, don't you think?

On the front door I'll hang my wreath that I originally made to use at my friend's black & white themed wedding.




I think it's whimsical and flirty yet still works for this application.

I originally learned how to make this wreath using fabric squares




and that's cute too but for the wedding I didn't want it to look too country or Indy 500-ish. The ribbons seemed to fit the bill.

To make this Easy.as.Pie craft, all you need is a straw wreath, fabric or ribbon (or whatever fun material you can conjure up to use - please, oh, please share your ideas), scissors and a phillips-head screw driver.

Cut the fabric into desired sized squares (depending on the size of your wreath and how much fabric/ribbon you want sticking out. If using fabric, place pattern side down facing the wreath, pinch the fabric in the center, place the point of the screw driver at the point of the fabric and push down into the wreath about 1/2" or so. THAT'S IT!! The closer together you make your insertions the fuller your wreath. In fact, looking at my picture now I think I could use more ribbon on my black & white one so I don't see so much straw wreath!! Sigh! Perfection is challenging *
overrated
*...

Anyway, school's almost out so it's almost party time, People! Summer means time for freedom and play, right? Or does it mean summer school, camps and marching band? I forget! :/ Well, continued blessings and summer prayers for
Peace, Patience and Wisdom
!!!!

I've linked up to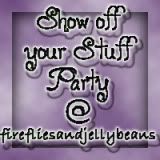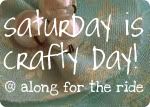 Blessings!
MLE