For some reason I couldn't bring myself to do any crafts for July 4th. Day after day I looked at all of the adorable & patriotic projects that everyone was kickin out to celebrate the day but I couldn't find the motivation to join in. I've been flying the American flag since Memorial Day so I'm not un-American but when it came time to making something... Nothing!
And then on Sunday afternoon as the brownies were baking to take to our party it suddenly hit me! I desperately needed to decorate my clothes in red, white & blue. Sheeesh! procrastination to the nth degree I'm telling ya! *I'd have some words for my kids about that kind of behavior*!!
I flew into action with super human speed and whipped out what I can only describe as my Daisy Duke shorts embellished with fabric rosette flowers. I was in such a collosal rush that I hot glued them right to my shorts while I was still wearing them! : )
* I can't believe I'm posting my worn shorts!! Forgive me?*
Well, Ok! so now it's July 8th and I've had about all I can take of the Daisy Dukes. I don't think I can put them through the wash since I hot glued them, can I? I decided against it but I still wanted the rosettes. I wanted to use them for my original idea...
Gosh! I love multi-purpose & versatility!!
Blessings!
thursday

friday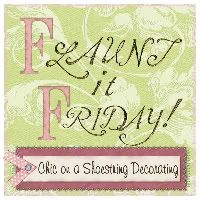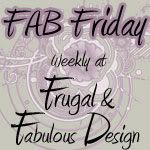 Vintage Suitcase Friday
@ Thrifty Tickle
saturday
sunday