What's November without a little gratitude?!
I spent some time this morning composing a memory tribute to one of the people being honored at the President's Dinner at my girls' high school this year. I felt it was important to let this man know how he has impacted my family. He may not know otherwise! Our story is not unique. Mr. McC has touched generations of people with his time, talent & treasure. I'm sure he doesn't give of himself for the recognition or glory, but sometimes it's just nice to know that you've made a difference!
This led me to think of all of the people who have influenced my life in one way or another. People who give of themselves in big ways and small. People who touch my life just by living their own.
Sometimes I am guilty of wanting a pat on the back for things that I do, but then I can be stingy about acknowledging what others do...
So, during the month of November (not just for a day), the month of Thanksgiving, I'm going to try to be more mindful of what others offer me - tangible, verbal, emotional, big or small
I've been told you can't be grateful & resentful at the same time.
Today I'm going to start with
YOU
fabulous bloggers!! I didn't really know what to expect when I started on this blogging journey. I just mentioned to someone that I don't really know where I'm headed with this but I LOVE the options & directions I can go. And I appreciate the sharing and camaraderie and support found here. I love your sincere comments and musings. They make me smile & laugh. Sometimes it's just the thing that I need. It's been such fun so far : ) So Thank You!
And just so you don't think that I'm all business today, I wanted to let you in on an uber thankful secret that brings a smile to my face on a regular basis... *
Go Here
*
you can thank me later : )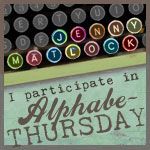 ps just wanted to share an opportunity with you! wouldn't it look great somewhere in your home or as a gift? check it out!
Bringing Peace Into The Home is holding a giveaway
of this print by Liz Lemon Swindle.
Click
here
to enter for the giveaway.
btw this print represents something else I'm grateful for!!